I grew up eating Campbell Soup from a can.  I am a soup lover and come from a long line of soup lovers.  My Grandma, Great-Aunts and my Mom and I could all eat soup anytime of the year.  Today it is in the low 90's, yet I made tomato soup for my lunch.  I make all of my own soups now and love them even more than the canned variety.  One of the last if not the last soup I tried to figure out was tomato soup.  I figured tomato soup was beyond me.  Then I had a friend give me a recipe to make it.  We loved it, but there were still store bought ingredients I had to buy.  So, I tweaked her recipe and was able to use my own home grown tomato products, milk and herbs.  It is VERY EASY AND QUICK to make.  It is almost as easy as opening a can.  🙂
I am not an exact measurer by nature.  I kind of eyeball things.  My husband says I do very well doing it that way and to keep it up.  I will try to give measurements, but play with them to suit your family's tastes. 
Homemade Tomato Soup
4 Tbs. fresh butter
4 Tbs. freshly ground flour or whatever flour you use
1/2 tsp. salt
2 cups fresh milk
Few dashes of pepper
1 or 2 quarts tomatoes
a bit of tomato powder or paste (optional)
1/2 tsp. basil
2 1/2 Tbs. Organic Cane Crystals (or sweetener of choice)
First of all I have my ingredients ready.  I have the milk in a measuring pitcher and I have one jar of my homemade tomatoes opened.  This helps to not burn ingredients as you will see. 
Melt the butter in the pan and then stir in the flour, salt and pepper.  It will look like a bunch of lumps.  🙂

Add the 2 cups of milk quickly, so you don't burn the flour and butter.  Whisk them together.  It will still be sort of clumpy.
Cook and stir until it is thick and bubbly.
You can see it getting thick and bubbling up in this next picture.
This is another place where you need to stir in the tomato products quickly.  You can use tomato sauce, or diced tomatoes or whatever you have. 
Most of the time when my tomatoes become ripe, I am in the middle of harvesting lots of things and don't have a lot of time.  I often just wash, core and quarter the tomatoes.  I run them through the food processor and just can it (skin, seeds and all).  That is what I added to this soup.  I started with one quart, but after tasting it, I wanted more tomato flavor and added a second quart.  If you want it really thick you can add  the tomato powder* or paste. It is thick enough to me without adding it, so I skip this step most times.

*I like to dehydrate tomato slices and then run them through the food processor or blender.  It makes a wonderful rich tomato powder. You can get around 100 tomatoes in a quart jar this way.  🙂  It is wonderful to add to soups, casseroles or even meat loaf.  You can add a little bit of water and get tomato paste or add more water and get tomato sauce.  It is worth the effort to do this.

Next add the basil.  As you can tell I added more than was called for above.  Do it to your tastes.  The basil was from my last year's garden.  I dried it as well.  Then add the Cane Crystals.  You can either put this in a blender to puree, or use a mixer.  I use my stick blender and it works wonderful.  I taste it and usually add a bit more salt and pepper.  🙂

I blended it until it was smooth.  That is all I did and it was delicious!!  So easy and so much better for you than the canned stuff.  We usually have grilled cheese sandwiches with my homemade cheese.  I love to sit down to a meal that came from the farm and our own hard work!!
My site contains affiliate links and links to our General Store.  If you make purchases through these links, it helps to support our family and this blog.  Thank you!
What some other great recipes?  Click on the Weekend Potluck button below!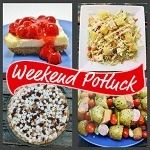 Also check out the Weekend Whatever Link Up for more great posts!!!